Please join the Office of DEIR Reception Honoring AISES' 45th Anniversary, as well as our 10 Pfizer travel grant awardees. Location: 05:00pm – 07:00pm USA / Canada – Central – August 21, 2022 | Location: Riverwalk B (Sheraton Grand Chicago)
---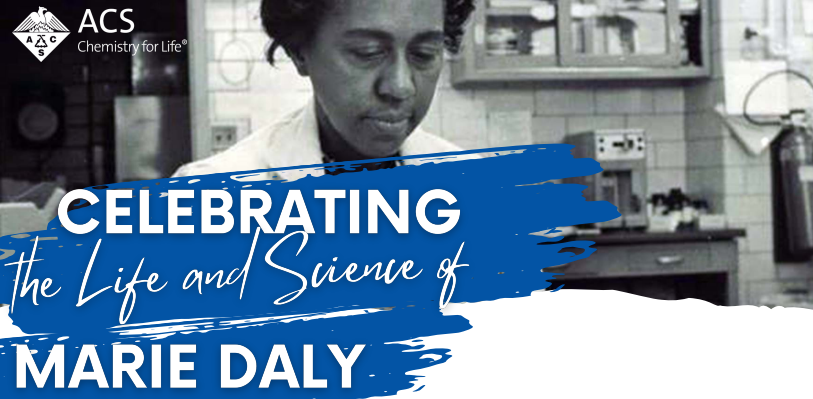 Join us Monday August 22, 2022, Marriott Marquis, Chicago, as we celebrate the Life and Science of Marie Daly.
In 1947, Marie Maynard Daly became the first African American woman to receive a doctorate in chemistry in the United States (from Columbia University). Join us for a day of celebration in honor of her life and science, which also serves as a kickoff to the 2023 dedication of a new national historical chemical landmark in her honor at Columbia University. Learn more about Marie Daly.
Program:
AM Technical Session, Division of Biological Chemistry
8:00 am – 12:00 pm
Glessner House C
The Division of Biological Chemistry will host the mornng technical session, starting with remarks by Sibrina Collins on the life and legacy of Marie Daly, followed by technical presentations from Amanda Bryant-Friedrich, Neel Shah, Blanton Tolbert, and Squire Booker.
---
Committee on Minority Affairs Luncheon* – In celebration of Marie Daly
12:00 pm – 1:30 pm
Doors open at 11:30 am
Grand Horizon G
*this is a ticketed event. Purchase tickets during registration or on site
---
PM Technical Session,
Analytical Division
2:00 pm – 5:45 pm
Grand Horizon F
The Analytical Division will wrap up the afternoon technical session, starting with additional reflections on Marie Daly by Jeannette Brown, followed by four technical talks by Judith Simcox, Mirlinda Biba, Benjamin Garcia, and Lisa Jones.
---
Financial Sponsors
ACS Division of Analytical Chemistry
ACS Division of Biological Chemistry
ACS Committee on Minority Affairs
Merck
With additional support from:
Columbia University Department of Chemistry
New York ACS Local Secton
ACS Women Chemists Committee
---
Other Diversity Events that we know about:
20th Anniversary ACS Presidential LGBTQ+ Reception
06:00pm – 08:00pm USA / Canada – Central – August 23, 2022 | Location: Mayfair (Sheraton Grand Chicago)
Division: [PRES] Presidential Events
YCC Career Development Symposium on Sept 1, 8:30 – 5 pm. Registration is required by August 20. Scan the QR code below to register.