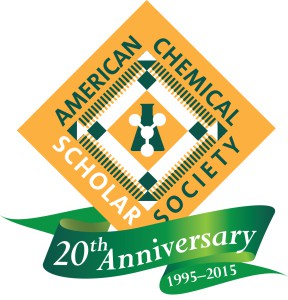 "A Scholarship for African American, Hispanic, and American Indian Students in the Chemical Sciences"
The ACS Scholars Program, an American Chemical Society award renewable scholarship to underrepresented minority students in the fields of chemistry, was established in 1994. This program aims to help build awareness of the value and rewards associated with careers in chemistry and assist students in acquiring skills and credentials needed for success.
To date more than 2500 (57% female) students have been awarded a scholarship through the ACS Scholars Program. Fifty-one percentage were African American, 43% were Hispanics, and 6% were American Indian. Although the majority of students major in general chemistry, other majors such as environmental or natural sciences, materials science, chemical technology (2-year program) among others are considered. One of the key findings of the ACS Scholars follow-up survey is that the 42% of the students who received a scholarship have entered to an advanced degree, including doctorate degrees such as MD/Ph.Ds. In addition, thirty-four percentage of the ACS Scholarship recipients have entered the chemical workplace.
Without a doubt, the ACS Scholars Program is an outstanding program and YOU have to be part of it. It does not only provide designated amount of money to students, but it helps scholarship winners to achieve success through a mentorship program. Awardees are also encourage to participate in undergraduate research and internships.
If you are a high school senior or college student, click here to find out more information about the application process. The application cycle is now open; it begins each year on November 1st. The deadline to receive applications and supporting documents is March 1st, 2015.
If you believe in this amazing program and would like to support it, please click here for more details.
In addition, the ACS Committee on Minority Affairs will be working jointly to the ACS Scholars Program Committee to recognize the achievements of the students who have received a scholarship during the 250th ACS National Meeting & Exposition in Boston, MA (Fall 2015). Stay tuned!
If you have any questions, please do not hesitate to contact the ACS Scholars Program staff:
Email: scholars@acs.org
Phone: (202) 872- 6250
Toll Free: (800) 227- 5558 ext 6250