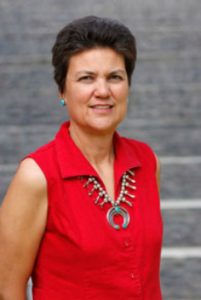 Dr. Ingram is an Associate Professor of Chemistry and Biochemistry at Northern Arizona University (NAU). She is the Principle Investigator of the Training Core at NAU for the Partnership of Native American Cancer Prevention (NACP), and director of Bridging Native American Students to Bachelor's Degree (BRIDGES) program. Her research is involved in the investigation of environmental contaminants with respect to their impact on health. More specifically, to address chronic uranium exposure and cancer risk to the Navajo. Further, Dr. Ingram has published 38 peer-reviewed articles. She has been and is currently funded by the National Cancer Institute, the National Institute of Health, National Science Foundation, and NARCH grant. Nationally, she serves as a counselor for the Council on Undergraduate Research.
Dr. Ingram received an Associate's degree from Yavapai Community College in Arizona. She received a Bachelor's degree in Chemistry from New Mexico State University and Ph.D. in Chemistry from the University of Arizona. She is a member of the Navajo tribe, and is born for the Naneesht'ezhi clan. Being a member of the Navajo, she was intrigued scientifically and motivated culturally to pursue this line of research. As a result, she has built her research program at NAU and is also involved in training activities for Native American students in undergraduate research. In addition to the science, her work has focused on fostering collaborations with the Navajo community and leaders.
Over her time at Northern Arizona University, Dr. Ingram has directly or indirectly recruited and mentored more than 200 American Indian / Alaska Native students in chemistry and related STEM disciplines, at both undergraduate and graduate levels. Her identity as one of a handful of NAU native faculty in the sciences has been a magnet for minority students, and her insights into academic and cultural barriers have shaped her highly effective approach to mentoring.
Dr. Ingram is the recipient of the 2018 ACS Award for Encouraging Disadvantaged Students into Careers in the Chemical Sciences for her outstanding accomplishments in recruiting and mentoring students from underrepresented groups, especially American Indians and Alaskan Natives, into professional careers in chemistry. Dr. Jani Ingram is the keynote speaker at the CMA luncheon during the Spring 2019 ACS meeting in Orlando.