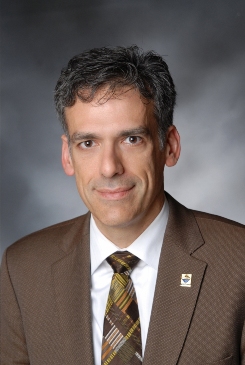 Professor Rigoberto Hernandez, Georgia Institute of Technology, is the 2014 recipient of the American Chemical Society Award for Encouraging Disadvantaged Students into Careers in the Chemical Sciences. This award is presented by the Society to recognize significant accomplishments in stimulating underrepresented students to decide on careers in the chemical sciences and engineering.
Hernandez has long worked to increase diversity in the sciences. He has participated in various diversity efforts at Georgia Tech including work on that institution's College of Sciences Diversity Council, the Georgia Tech Diversity Programs Committee and serving in the Vice President for Institute Diversity's Faculty Advisory Board. Other outreach activities include serving in the Steering Committee for a NSF Workshop on Excellence Empowered by a Diverse Workforce, and work with the Sloan Foundation, Minority NSF STEM Ph.D. Advisory Committee.
Hernandez is the director of the Open Chemistry Collaborative in Diversity Equity (OXIDE) program at Georgia Tech. A 5-year program, co-funded by the National Science Foundation, the National Institutes of Health and the U.S. Department of Energy, that seeks to address problems with underrepresentation in multiple areas of diversity encountered by chemistry departments nationwide. Major OXIDE activities include: hosting a biennial National Diversity Equity Workshops, partnering with Chemical & Engineering News to conduct annual demographic assessments of chemistry departments, and serving as the connection between department chairs, social scientists, and key stakeholders from the many existing diversity communities within chemistry.
Hernandez was recently elected to the Board of the ACS as District IV Director. His commitment to diversity was highlighted in his statement to ACS members; "the diversity in age, experience, backgrounds, race, ethnicity, gender, orientation, and abilities that makes our fellowship stronger must be addressed through everything we do", wrote Hernandez.
Hernandez is also a strong advocate of new faculty mentoring. Commenting for a recent C&E News piece, Hernandez wrote that "we need to mentor all early-career faculty to increase their success broadly and equitably". Hernandez also highlighted the importance of mentorship at the Committee on Minority Affairs Luncheon held at the 2014 Spring ACS National Meeting. In his keynote address, Hernandez discussed his journey to become a chemist, and how the guidance and mentorship he received as a student and as faculty positively impacted his career.
A Symposium honoring Rigoberto Hernandez will be held at the 248th ACS National Meeting in San Francisco, California. The symposium, titled Advancing the Chemical Sciences Through Diversity in Participation, will celebrate the successes that the community has made in changing the chemical workplace from the top-down through changes in the infrastructure supporting and advancing the chemical sciences.
About the Award
The ACS Award for Encouraging Disadvantaged Students into Careers in the Chemical Sciences was established in 1993 with support of The Camille and Henry Dreyfus Foundation.
About the Award Symposium
The symposium in honor of Rigoberto Hernandez is part of the Committee on Minority Affairs Program at the 248th ACS National Meeting in San Francisco. The symposium is being co-sponsored by Division of Analytical Chemistry, Division of Chemical Education, Division of Computers in Chemistry, Division of Physical Chemistry, Division of Polymeric Materials Science and Engineering, Division of Polymer Chemistry and Division of Professional Relations. The award symposium is being organized by Robert Lichter, Charles Liotta and Larry Dalton.
Rigoberto Hernandez on social media
You can follow Rigoberto Hernandez on Twitter (@EveryWhereChem) and on his everywherechemistry blog http://everywherechemistry.blogspot.com/
Further reading
Mentoring New Faculty—It Really Works! Chemical & Engineering News (March 24, 2014, Volume 92, Issue 12, page 36).
For District IV Director: Rigoberto Hernandez Chemical & Engineering News (September 16, 2013, Volume 91, Issue 37, page 42).
ACS Honors Hernandez for His Efforts in Promoting Disadvantaged Students (September 16, 2013)